Zink Cabin is a cozy Catskills guest cabin with mountain views and modern comforts.
We aim to balance nature and relaxation with conveniences like Wifi, Netflix and a dishwasher.
With a minimalist aesthetic and functional details, if inspiration strikes you'll have the right tools to capture it.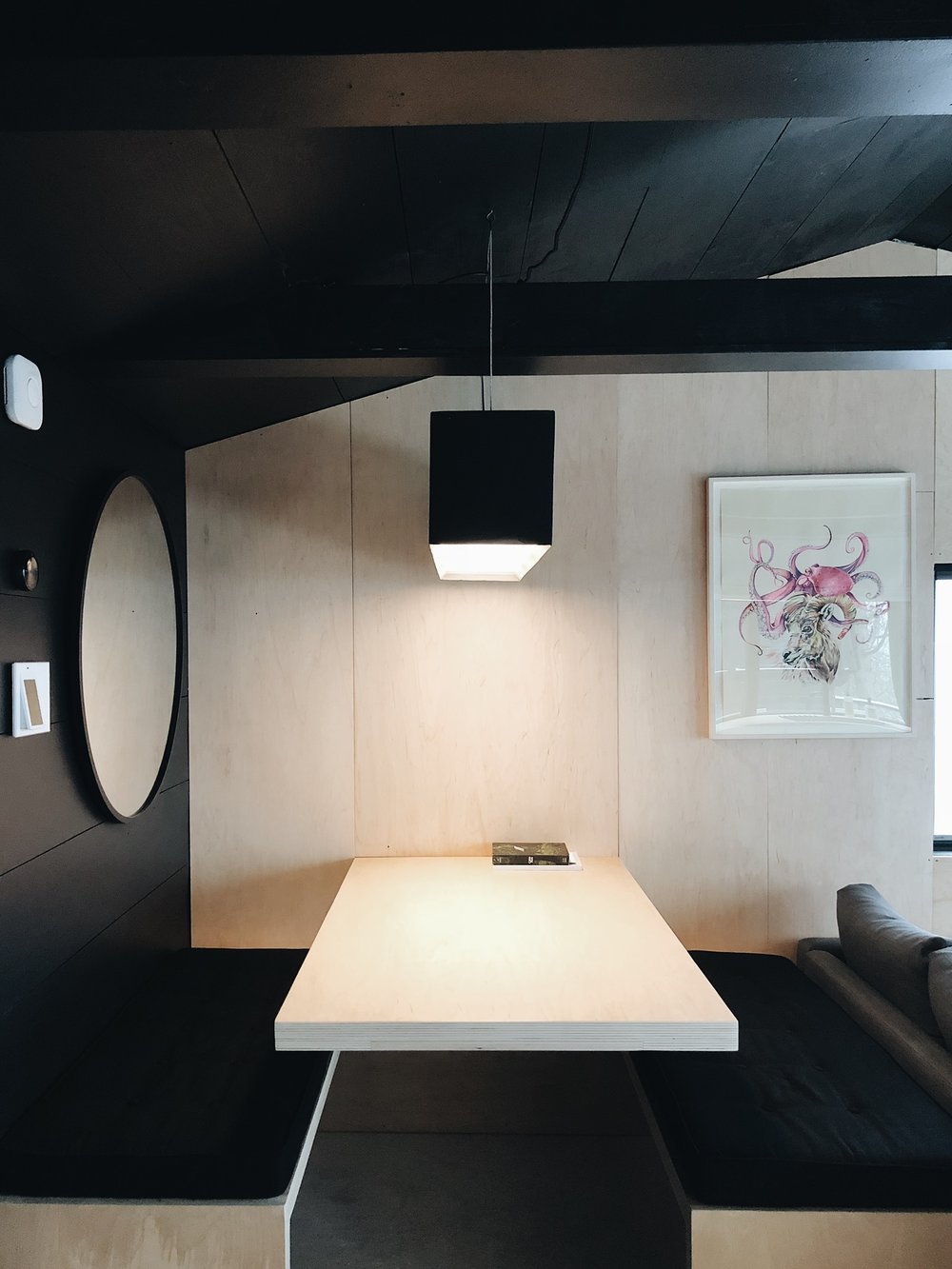 Accommodations —
Designed for two, accommodates up to four.
One bedroom with full bed.
One bathroom (en suite).
One full-size sleeper sofa (in main room).
Amenities —
Wifi & Netflix
Cast iron propane fireplace
Dining / working / gaming nook
Dishwasher
Induction cooktop
Outdoor propane grill
Deck with a view
Motorized solar shades
Air Conditioner
Essentials (bedding, towels, dishes, cooking utensils)
Nespresso, drip coffeemaker and electric kettle
Grown Alchemist bath products
Location —
7 minutes to Vernooy Kill falls
15 minutes to The Country Inn restaurant
15 minutes to Ravenwood dinners and farm shop
20 minutes to the world's third largest gnome
25 minutes to Westwind Orchard & Cidery
25 minutes to Cherrie's ice cream
30 minutes to Emmanuel's Market
35 minutes to Phoenicia Diner
35 minutes to Lake Minnewaska
2.5 hours from New York City
"By far one of our favorite Airbnb stays to date. What a wonderfully thought out modern gem just far enough from the city, and close enough to (real) nature to relax. Kristin has added so many mindful touches to this minimal/Scandinavian tree topped cabin! We could have stayed a whole week easily."
— AUBREY VIA AIRBNB
"Situated up on a hill with stunning views of the Catskill mountains, the Zink Cabin was the perfect weekend getaway. From the clean lines of the kitchen to the iron stove that keeps the cabin nice and toasty, the interior is designed with a mix of modern and rustic touches. The cabin is wired with Alexa operated lights and remote control curtains. Even though the temperature outside was 5 degrees, it was a toasty 72 degrees inside. It will be nice to return during the warmer months so that we can experience the views while dining outside on the deck. Kristin was extremely attentive, quickly responding to every message we sent her and checking in to see how everything was. We're already looking forward to our next visit."
— TOM VIA AIRBNB
"What a fantastic place to get away and get OUTSIDE! It's just beautiful. Waking up to that view every morning was pure pleasure, as was having every meal outside. Fabulous. We've already booked our fall return!!"
— SUSAN VIA AIRBNB
This was one of our favorite stays EVER! We stayed here for three days after our wedding for a mini-honeymoon, and it was everything we could have asked for and more. The space is so well styled, even the house manual is cute. Super modern, very cozy smart house with everything we needed to have a beautiful vacation. Also near great hikes (go to Vernooy Kill Falls and Sam's Point! Also check out Kelder Farms for a fun time pretending you're a kid again!). Can't recommend this place enough, and can't wait to stay here again in the future!!!
– JESSE VIA AIRBNB
Zink Cabin
Kerhonkson, NY
Starting at $185/night